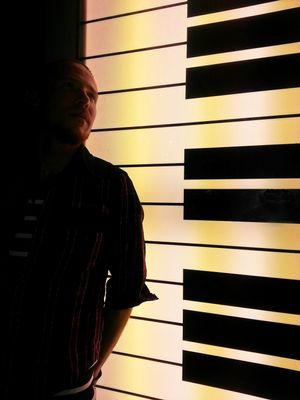 About
Chris Morris is a true musical chameleon, whose sound effortlessly spans across genres like Soul, Pop, Reggae, R&B, Lofi, Retro, Jazz, and Rock. A singer/songwriter, keyboardist, and producer hailing from San Diego, Chris has made a name for himself in the music industry as an artist unafraid to take risks and push the boundaries of what's possible. 
Chris started playing piano at age five, and it was clear from an early age that he had a natural talent for music. By the time he was ten, he had picked up the trombone and was already exploring different genres of music. It wasn't long before he was producing his own tracks, and by the time he was 18, he was starting to make a name for himself in the scene. 
Over the years, Chris has released several vocal and instrumental albums showcasing his diverse influences, including Chicago, Stevie Wonder, Outkast, the Beatles, Jamiroquai, D'Angelo, Earth, Wind & Fire, and many more. His vocal albums, such as "Recollection," "Changes," and "Ascension," showcase his soulful voice and songwriting skills, while his instrumental albums, such as "Calibration" and "August," highlight his talents as a keyboardist and producer. 
Not only does Chris create his own music, but he's also the keyboardist/vocalist for the San Diego-based Reggae bands, Roots Covenant and Stranger. He's also playing with the metal band AlienSatan and has performed as a keyboardist on stage with reggae legends such as Johnny Clarke, Norris Reid, Johnny Osbourne, Michael Prophet, Wayne Wade, Sister Nancy, and Edi Fitzroy. 
Chris has also composed music for commercials for companies like Huawei and Coca-Cola for Asian Markets, and his music has been featured in video games. He's toured extensively throughout the United States, Canada, Mexico, and Taiwan, performing his original music to thousands of people each night. 
Regardless of the genre he is exploring, Chris Morris always brings his signature soulful voice and musical sensibility to the forefront. He is a true musical chameleon, constantly pushing the boundaries of what is possible with his artistry.